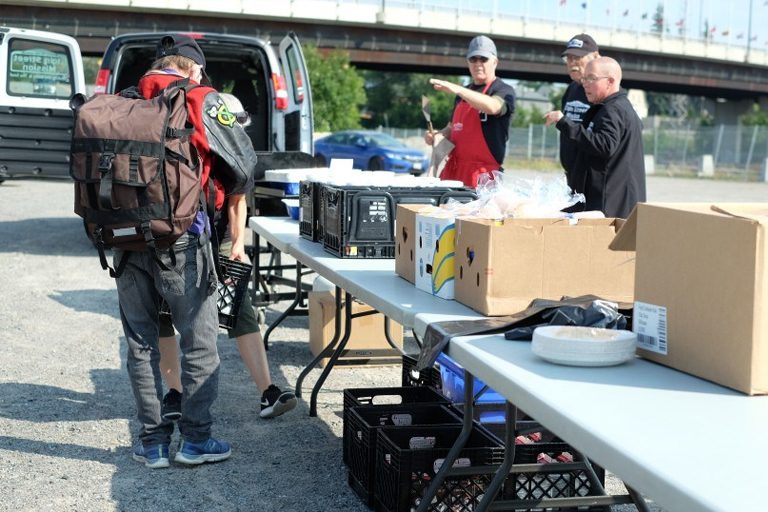 The Greater Sudbury Landlord Association (GSLA) and the Elgin Street Mission teamed up July 22 to deliver an outdoor barbecue for people in need of a meal.
After a day of rain and clouds, the sun shone in the evening sky as volunteers set up the venue for a summer evening barbecue.
Ray Goulet, president of the GSLA, said the barbecue presented an opportunity for association members to give back. Not only did landlords work the grill, they also provided a donation to the Elgin Street Mission.
"We have a $500 check prepared to hand over to them," Goulet said.
He told Sudbury.com the GSLA decided to donate to the mission and host the barbecue to "bring a smile" to the city's vulnerable downtown population. Between 200 to 250 people were fed at the event.
"We would like to continue this once a month or once every year," Goulet said.
As the smell of burgers on a grill filled the air, musical performers kicked off some dinner-time entertainment. As GSLA member Don Jongsma flipped burgers, Melissa Circelli, a volunteer at the mission, laid out hamburger buns.
Circelli had been volunteering with the Elgin Street Mission for the past three years.
"I chose to come out and volunteer just to be a part of the community and to participate in something," Circelli said. "It's just a good feeling to come out here and create a safe space for these people and be able to give them a meal, and just be a little bit of happiness in their day."
Volunteers play an important and vital role for the Elgin Street Mission as they "could not operate without the amazing volunteers," the mission website said
"It's just anyone that really has a heart for what we're doing. And anyone can volunteer as long as they have a willing heart and able hands," Amanda Robichaud, director chaplain of the Elgin Street Mission said.
"Our clients, especially during the pandemic, we really wanted to do something special for them. And so this is a great way to serve our clients the very best way we know how and our clients love it. And as you can see, people are already starting to gather. And so it's just a great way to celebrate summer and honour our clients."
To volunteer with the Elgin Street Mission or find out more, please visit their website.