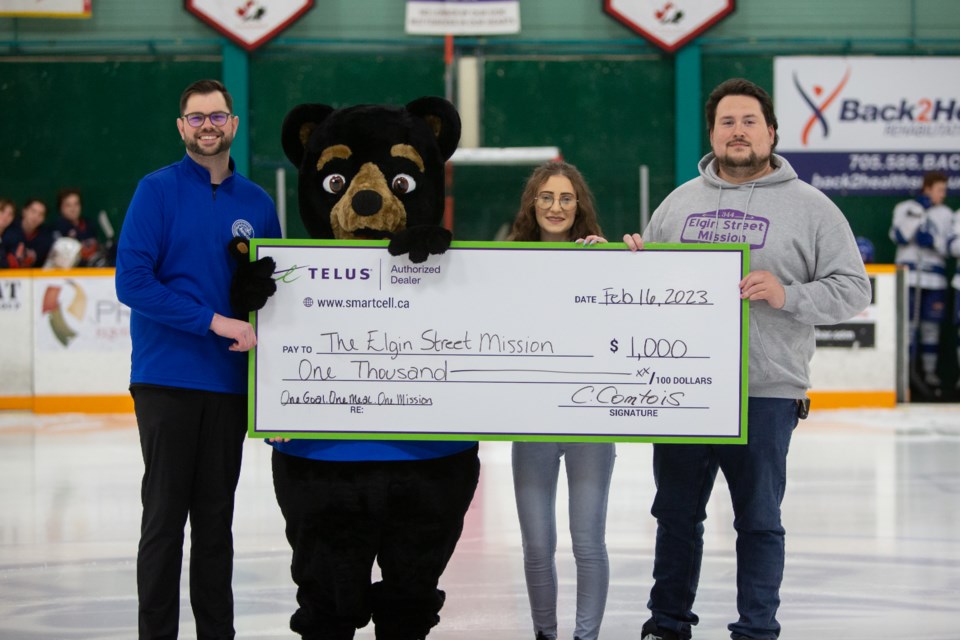 On Thursday, February 16, SmartCell Sudbury Store Manager Abigail Robineau presented a cheque for $1000 to Director Rev. Amanda M. Robichaud of the Elgin Street Mission, marking the culmination of SmartCell Sudbury's successful #onegoalonemealonemission partnership with the Greater Sudbury Cubs.
Over the 2021-2022 regular season, SmartCell Communications in Sudbury pledged to donate one meal, or $10, for every goal the Cubs scored on home ice.
The Cubs responded with a total of seventy-seven home-ice goals, and SmartCell Communications' then rounded up the donation to a total of $1000.
Supporting the Elgin Street Mission is a matter of great pride for Abigail Robineau and the SmartCell Sudbury team.
"As someone who grew up in Greater Sudbury, seeing all of the people in need, I couldn't be prouder to support the Elgin Street Mission for what they represent and do for the community on a daily basis," says Robineau.
"My team and I are honored to work for a company that sponsors such an amazing charity that not only helps those in need but goes above and beyond to ensure that everyone who enters always feels welcome, comfortable and unashamed of their circumstances."
The #onegoalonemealonemission campaign was a collaborative effort supported by TELUS, Sudbury Cubs Care Program, Elgin Street Mission and the Cathie Comtois Benevolent Fund.
TELUS GIVES BACK
Every year, TELUS Friendly Future Foundation™ supports more than 500 local charities across Canada that provide youth with the support and resources they need to learn, be creative, innovate and stay healthy, opening new worlds for them to thrive.
"We're caring for the well-being of our communities by giving back $90M and volunteering over 1.3M hours last year," explains Carly Comtois, SmartCell Director of Marketing.
"As the most giving company in the world, our long-standing Give Where We Live philosophy continues to inspire our global community." In addition to monetary support and volunteer hours, the TELUS 'Connecting for Good' programs are making a difference, ensuring that the most vulnerable among us – including at risk youth, seniors, families and people with disabilities – have access to the technology and connectivity they need.
MORE WAYS TO SUPPORT ELGIN STREET MISSION
The need for healthy meals has never been greater, and the opportunity to give has never been easier. Anyone wishing to support the Mission's food program can now make a donation online, or 'shop' for their food donations through Elgin Street Mission Express – Food Donation Simplified with Instacart.
For the past 31 years the Elgin Street Mission has served the Sudbury community. The Mission provides physical, emotional and spiritual nourishment to all who enter its doors. The Mission is a Christian based non-profit, non-political registered charity funded by donations from individuals, businesses and churches. Learn more about Elgin Street Mission online. 
If you are in need of support, the Mission is located at 344 Elgin Street in Sudbury.