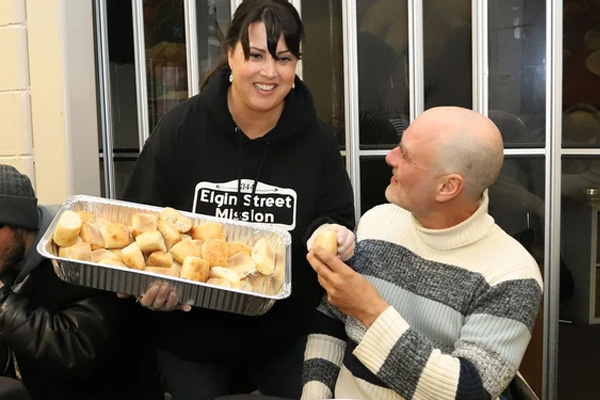 Clients of the Elgin Street Mission were treated to a fine-dining experience Tuesday as Verdicchio Ristorante took over the kitchen and served up a gourmet, four-course meal.
"The mission always provides nutritious meals, but this is something special," said Gerry Lougheed Jr., chair of the Community Leadership Team for the downtown charity, which helps those struggling to get by. "It's the first of its kind, not just for here but probably Canada, to have an upscale restaurant come in and provide this kind of product."
Apart from the high-end fare — the menu featured caesar salad, pasta bolognese, beef short ribs, fingerling potatoes and apple cake — there was more of a restaurant feel to the hall, typically more of a bare-bones, cafeteria-style affair.
On this occasion there were tablecloths and floral centrepieces, and patrons had their meals delivered to them by celebrity servers, including Bela Ravi, Rick Bertrand and Lougheed himself.
Verdicchio owner Mark Gregorini donated all the fare — enough to feed 200 people, who were accommodated in shifts, as the mission only holds up to 67 diners at a time — as well as the time and staff to prepare it.
On top of that, the Community Leadership Team raised $20,000 through corporate and individual donations to match the restaurateur's generosity.
"We figured a meal like this would cost about $100 a plate, so we went into the community to look for sponsors," said Lougheed. "That $20,000 we raised through sponsorships will stay with the mission."
Such funds are much-needed, said Amanda Robichaud, director and pastor with the mission, as demand for the meal service has shot up in recent years, along with the cost of providing it.
"In 2019, we were providing an average of 3,000 meals per month, and by 2021 that had more than doubled, to 7,000 a month," she said. "So we are seeing a major, major increase."
At the same time, "we have to spend a lot more on food due to inflation," she said. "That's just the reality we're in right now, but there is still a need we have to meet."
The mission could only provide takeout meals through much of the pandemic, but opened again at full capacity this spring. "The clients are very happy about that," said Robichaud.
They were even happier to receive such a lavish spread on Tuesday.
"I never thought this existed here in Canada," said Sebastien, who moved to Sudbury from Ottawa about three years ago and has been living of late in what he described as "a teepee on the mountain."
Another man, who described himself as a "casual customer" at the mission, said he had heard "many good things about Verdicchio" but had not had the opportunity to dine there before, so he was looking forward to a taste of its modern Italian cuisine.
"I come here off and on for survival," he said. "I think people really appreciate a special meal like this, and to be served at the table as well is very nice."
Louis Dubeau, a volunteer with the mission, said the gesture provided clients with a feeling of dignity as well as an extra tickle of the taste buds.
"It brings a good heart to all of us," he said. "It's nice for them to have a fancy meal like this, instead of the same stuff every week."
Robichaud said the event was a "big deal" for the mission and especially for its clients.
"Some people would say, 'Why are you doing a fine-dining meal?' and the answer is, 'Why not?' " she said. "What we're really doing is showing our clients how valued and loved they are. It's what we do 365 days a year, but now we just have Mark and his team here to bring it up a couple of notches."
Article by: Jim Moodie