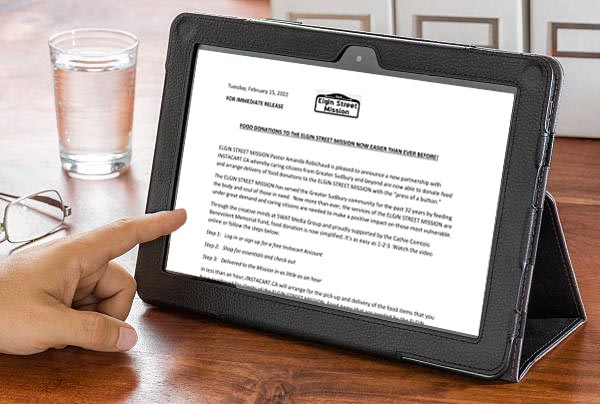 ELGIN STREET MISSION Pastor Amanda Robichaud is pleased to announce a new partnership with INSTACART.CA whereby caring citizens from Greater Sudbury and beyond are now able to donate food and arrange delivery of food donations to the ELGIN STREET MISSION with the "press of a button."
The ELGIN STREET MISSION has served the Greater Sudbury community for the past 32 years by feeding the body and soul of those in need. Now more than ever, the services of the ELGIN STREET MISSION are under great demand and caring citizens are needed to make a positive impact on those most vulnerable.
Through the creative minds at SWAT Media Group and proudly supported by the Cathie Comtois Benevolent Memorial Fund, food donation is now simplified. It's as easy as 1-2-3. Watch the video online or follow the steps below:
Step 1: Log in or sign up for a free Instacart Account
Step 2: Shop for essentials and check out
Step 3: Delivered to the Mission in as little as an hour
In less than an hour, INSTACART.CA will arrange for the pick-up and delivery of the food items that you have purchased for clients of the ELGIN STREET MISSION. Food items that are needed by the ELGIN STREET MISSION will be identified on the ELGIN STREET MISSION website to review at: www.themission.ca
In collaboration with our Community Partners at Incapture, SmartCell TELUS Koodo and the Greater Sudbury Cubs Jr.A Hockey club's "Cubs Care" program, the ELGIN STREET MISSION will continue doing their part to feed those in need and sincerely look forward to the support of the public by providing FOOD DONATIONS using the INSTACART app.
For more information, please contact: Pastor Amanda Robichaud, c/o ELGIN STREET MISSION administrator@themission.ca or call: 705-673-2163