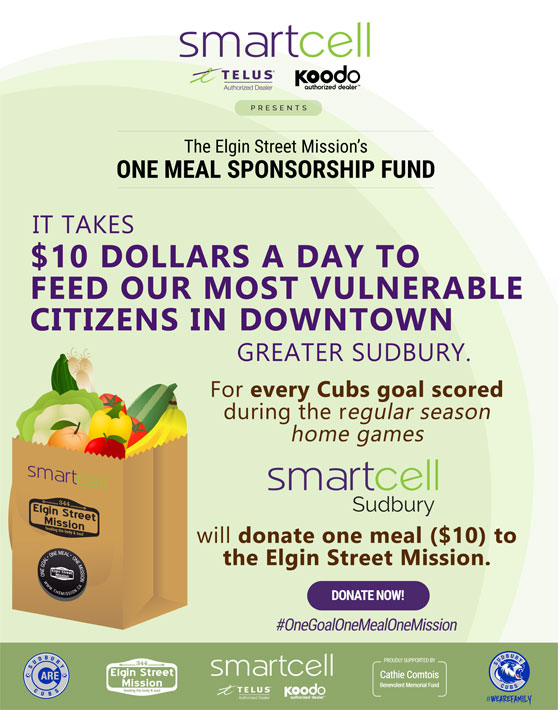 The Greater Sudbury Cubs announced this week that for every goal a Cub player scores this season, SmartCell Communications will donate $10 to the Elgin Street Mission.
At a press conference earlier this week, Carly Comtois of SmartCell said the $10 figure was chosen because it is also the cost of feeding a single person in a single day.
"Cheering on a new hockey team, which is right down the street from our Sudbury SmartCell location, then every goal that they score we donate $10 – it just made too much sense," said Comtois, the director of marketing services at SmartCell.
With a hashtag campaign called #OneGoalOneMealOneMission, the three organizations are committed to serving the community. The initiative will play as a part of the Sudbury Cubs Care Program as players will also be joining SmartCell Communications team members in food drives and meal service at the Mission.
SmartCell Communications is a founding partner of the Cubs and chose to partner with the Elgin Street Mission because "they have been on the frontlines with our community's most vulnerable citizens since 1989," Comtois said
"The Mission itself does not receive any regular government or city funding, but functions through the generosity of its community partners," Comtois continued in the press release.
The entire project is supported by Steven Bowser, SmartCell Communications' CEO, who will fly in from the company's head office in Ottawa to take part in a ceremonial puck drop.
To learn more about the #OneGoalOneMealOneMission campaign, check out SmartCell's website here.
Atricle By: Sudbury.com Staff