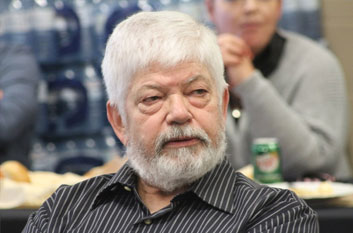 While the founder of the Elgin Street Mission hopes one day its services will never be needed again, Gary Newbury hopes it will remain the passionate and caring place it has been over the past 32 years.
Newbury was honoured this week for his commitment to helping feed those in need.
"I feel so thankful, so honoured, it's really a privilege, but there are so many other people who have given so much who aren't being recognized, and my heart really goes out to them," Newbury said. "I wish there was some way we could honour them all."
Newbury started the mission 32 years ago on a shoestring budget of $15,000 a year, and today the Elgin Street Mission operates with an annual budget of about $500,000 and feeds upwards of 300 people a day.
"I never envisioned us being around for 30 years," Newbury said. "To see the faith that people have put into this place is mind boggling. God has been true to us."
Newbury said he grew up with a "dysfunctional" background. He didn't have any parents, and he viewed the people on the streets the way he viewed himself.
"I just wanted to do something for them," he said. "It was a burden that burned within me, and I had to do something for those people."
Newbury approached his church, Glad Tidings Church, and they agreed to give him $15,000 a year to operate the mission.
"We were open from 7 p.m. until 7 a.m.," said Newbury. "People would come in, put their head on the table and fall asleep. We loved them all as they were. It didn't matter if you came in with a suit on, or if you came in smelling like garbage, we wrapped them in a hug and told them they are wonderful."
Newbury said his father died when he was 12 years old, "but he taught me there's no difference between one person to the next. He told me sometimes, people who are down and out are better people than those who are rich and famous."
He has seen a lot of heartache in the past 32 years, recounting stories of patrons who frequented the mission turning up dead, but he knows there are far more positive stories to tell.
The bad that happens in the community tends to make us forget about all the good that is being done to feed the less fortunate, but there are a million good things to talk about.
"I've often said, if I had kept journals, I could write three or four books and they would have been amazing books."
Newbury said it's his hope that one day the Elgin Street Mission will have to close its doors forever because people are no longer going hungry.
"That has been my dream since Day 1, to not have to open our doors because no one is going hungry, but I've come to realize that is never going to happen, and that's the sad thing about it," he said.
He also said it's not good enough to just feed them, because that's just basically covering up the effect of the problem.
"We need to find something to help solve their problems, and my hope is that is where the Elgin Street Mission will go in the future," he said. "My fear is that those who come after me, will have a different view, and will be more of a mindset to feed them and get them out.
"I have sat down with every single person who came into the mission in its early days and talked to them, put my arms around them, and I hope whoever comes after me has the same kind of heart. That they see a human being who is down on their luck, because it can happen to any of us."
Newbury also said he's fearful of the fact volunteers at the Elgin Street Mission are aging, and there won't be anyone to replace them.
"It's scary when I stop and think that all of the volunteers who help make this place happen are getting older, and there are not a lot of young people lining up to volunteer," he said. "If there are any young volunteers out there, please come in and give it a try. Once you come in and meet the people here, you will want to stay."
He said the Mission has never received a penny of government funding in its 32 years, with the exception of some COVID-19 relief funds over the past year.
"A lot of people believe we are funded by the government, but we haven't received one penny from any government source in 32 years," he said. "There are currently five area churches that help contribute to the mission's annual budget."
During the luncheon to honour Newbury, the Rotary Club of Sudbury Sunrisers named Newbury the latest person to receive the Paul Harris Fellow award. He was also gifted a painting by local artist Shawn Robichaud, which will be kept at the Mission for all to see. Furthermore, the dining room at the Elgin Street Mission is being renamed in his honour.
Amanda Robichaud is the director Chaplain at Elgin Street Mission.
"Many of us have plans to do good things, but Gary followed through and did something good," she said.
It takes a team of great people for the Mission to operate daily.
"We have hundreds of volunteers who make it all happen, and without them, we couldn't do what we do," Robichaud said.
She said the Mission also owes a lot of gratitude to the business community for helping to contribute to its fundraising efforts.
"The business community has been very, very good to us," she said.
Article by: Arron Pickard -www.sudbury.com